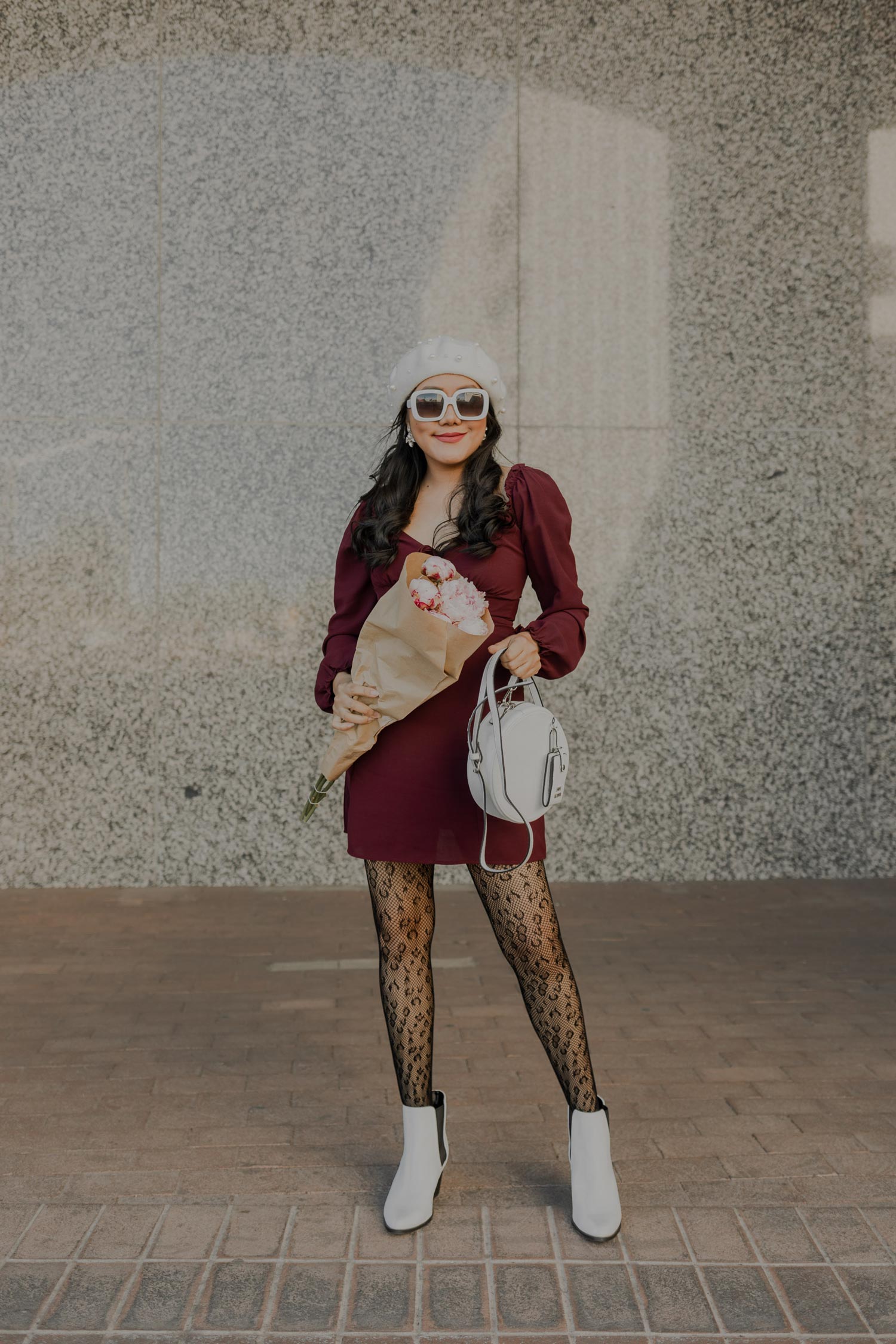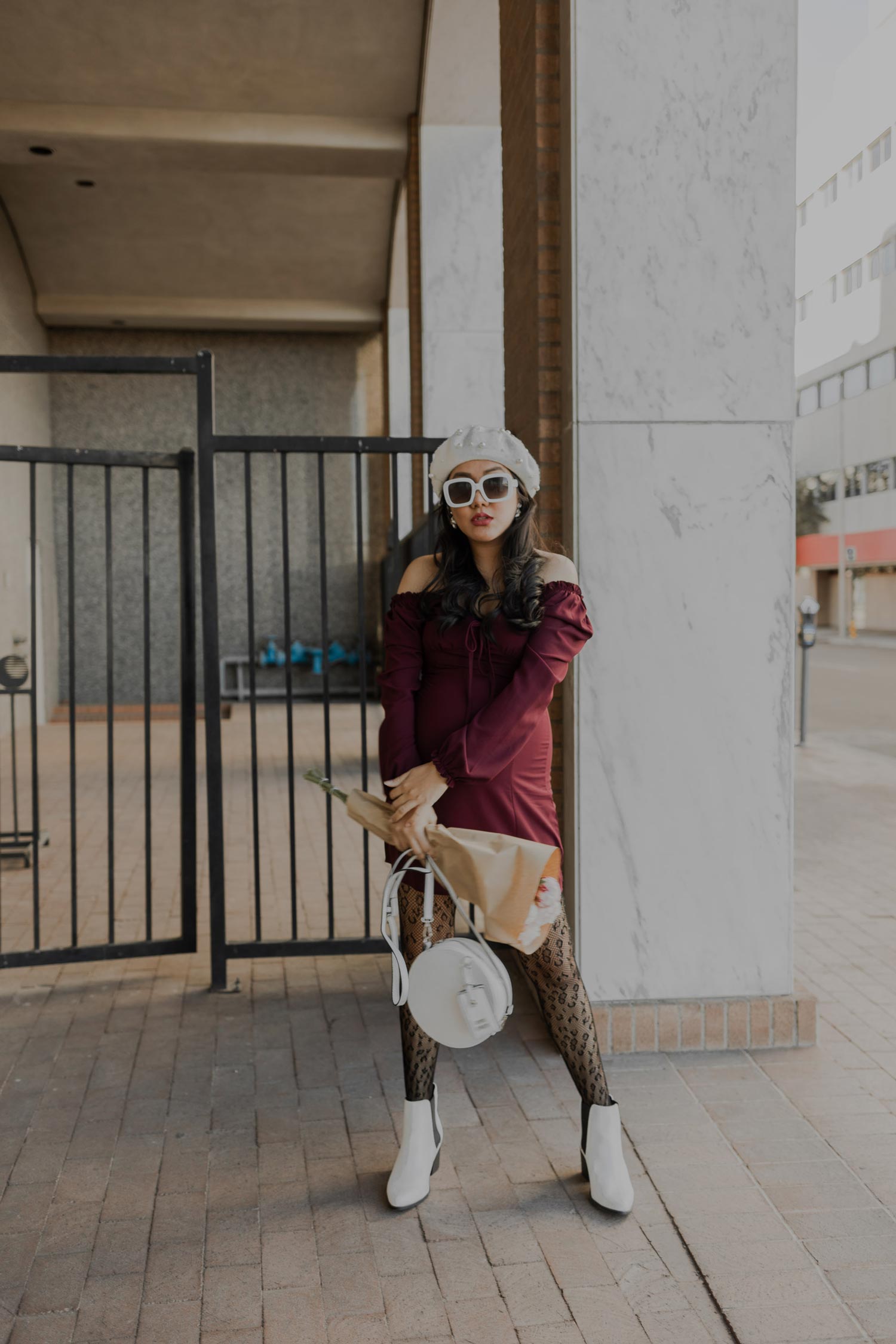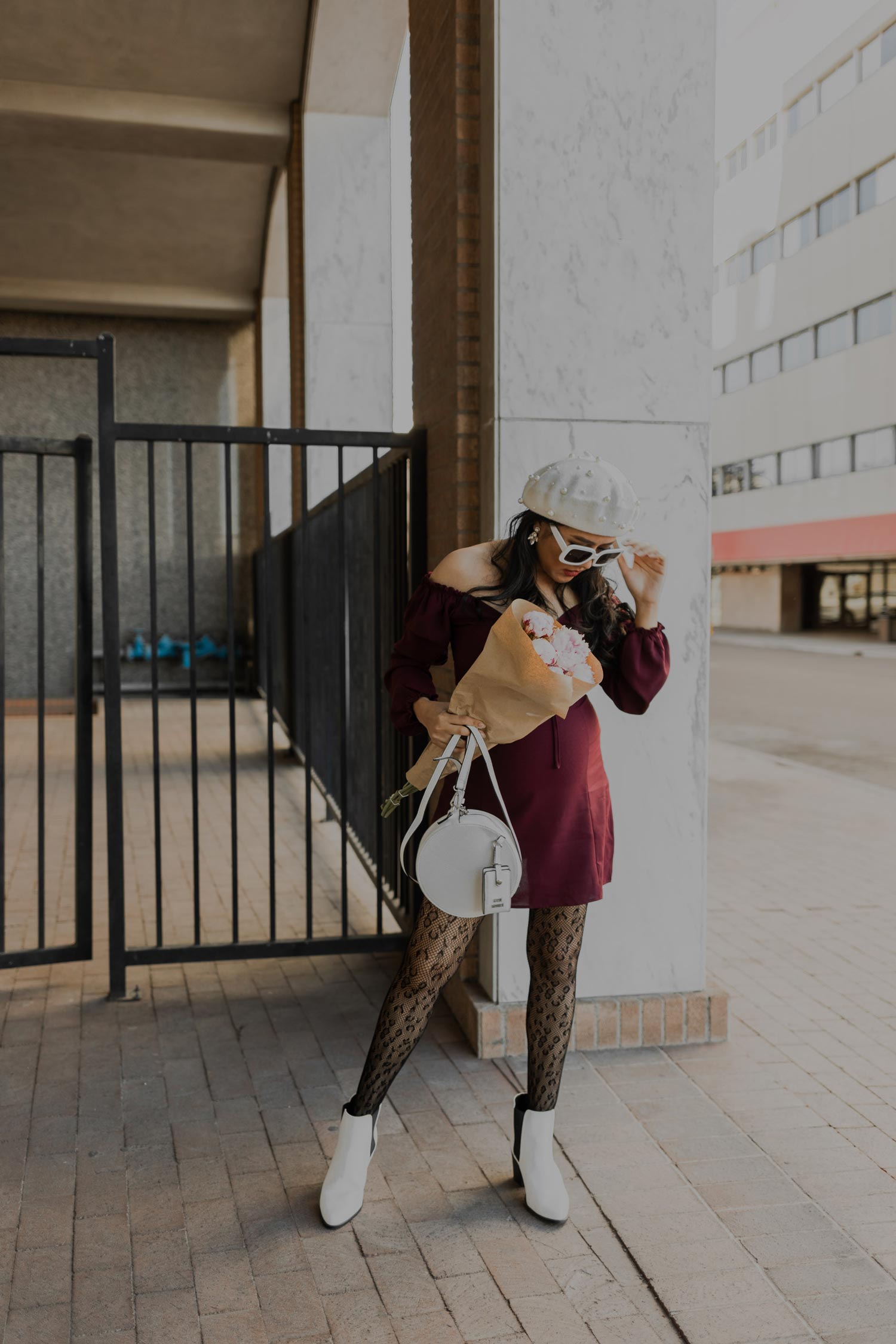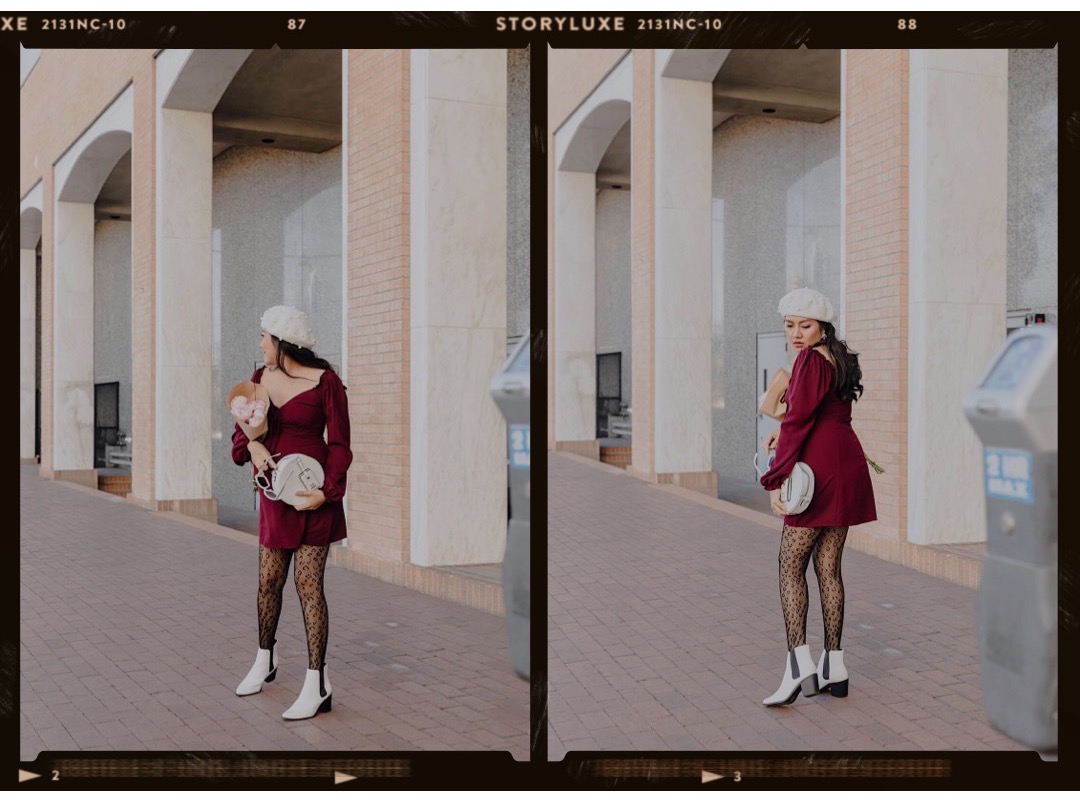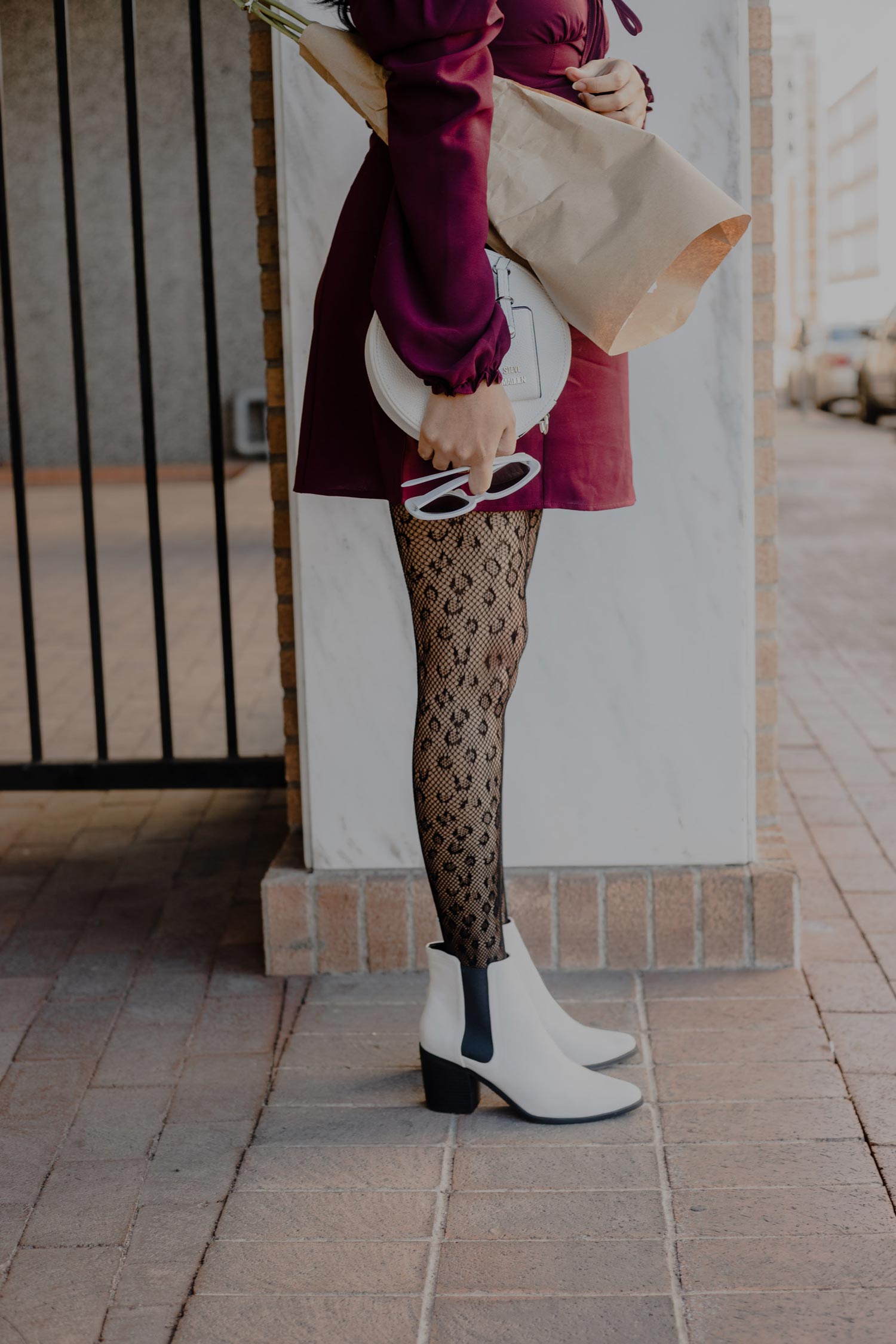 Hi love! Happy Wednesday! 🙂
Introducing you to my new style series today, "The V Armoire" – a collection of vegan handbags I started collecting since late 2018. I added "The V Armoire" to my fashion categories on this blog and I'm so excited to be sharing all of my vegan bags I collect with you here every/ (or every other) Wednesday. #VeganWednesday
A little bit of a story behind the name picking here. I picked "The V Armoire" to go along with my social account name, "The Vibes Closet". Instead of "Vibes" I only use V which stands for Vegan. And instead of "Closet", I use "Armoire". It sounds very classy to me which I really love. 🙂
Before we get into what bag I have to share with you today, I have to let you know first that I'm still using non-vegan products. But this is a good start and I'm proud of it.
What I like most about vegan bags are the affordable price point. I can buy 10-20 bags for a price of one luxury leather handbag. Seriously I got about 10+ vegan handbags from all the holiday sales last year.
"BTEENIE" crossbody
In today's post I would like to introduce you to this charming bag, Steve Madden "BTEENIE" crossbody in white. This bag is made with 100% Polyurethane and 100% Polyester lining. Comes in 7  colors; white, black, natural snake, red, taupe, black-white, and pink multi. The price of this bag is $58. A few colors are on sale right now and they are a little bit above $30. I'm linking all of them for you below.

I really love the size of this bag, it is not too big or not too small. The bag dimensions are approximately about 8″H x 8″W x 2.5″D.  As you can see from my photos, the luggage tag accent is adding a really fun detail to it. This bag comes with an adjustable strap, (strap drop: 25 inches). I love a zipper closure as well. It has 2 interior pockets: 1 slip and 1 zipper pocket.
Overall, this bag is very cute and functional.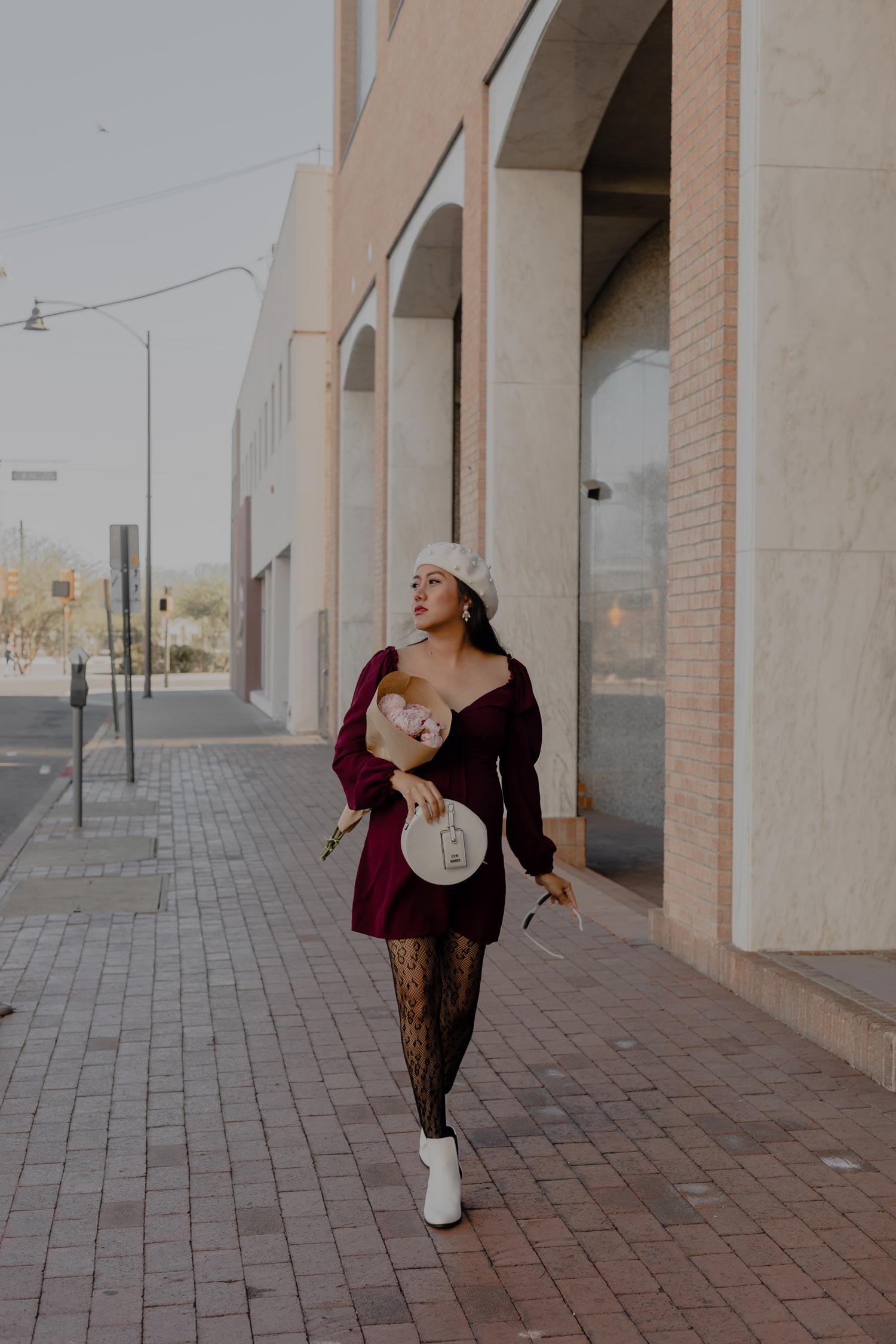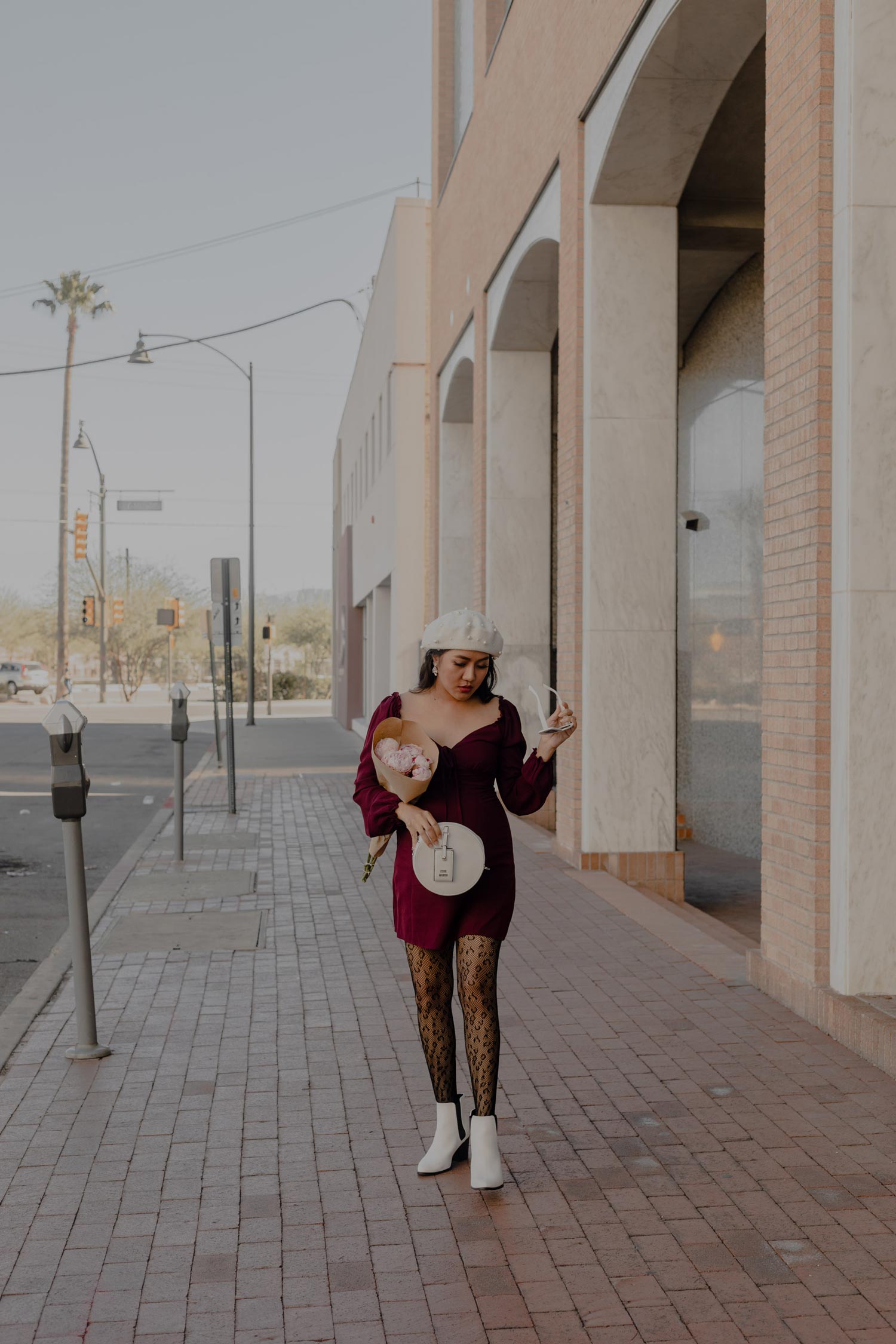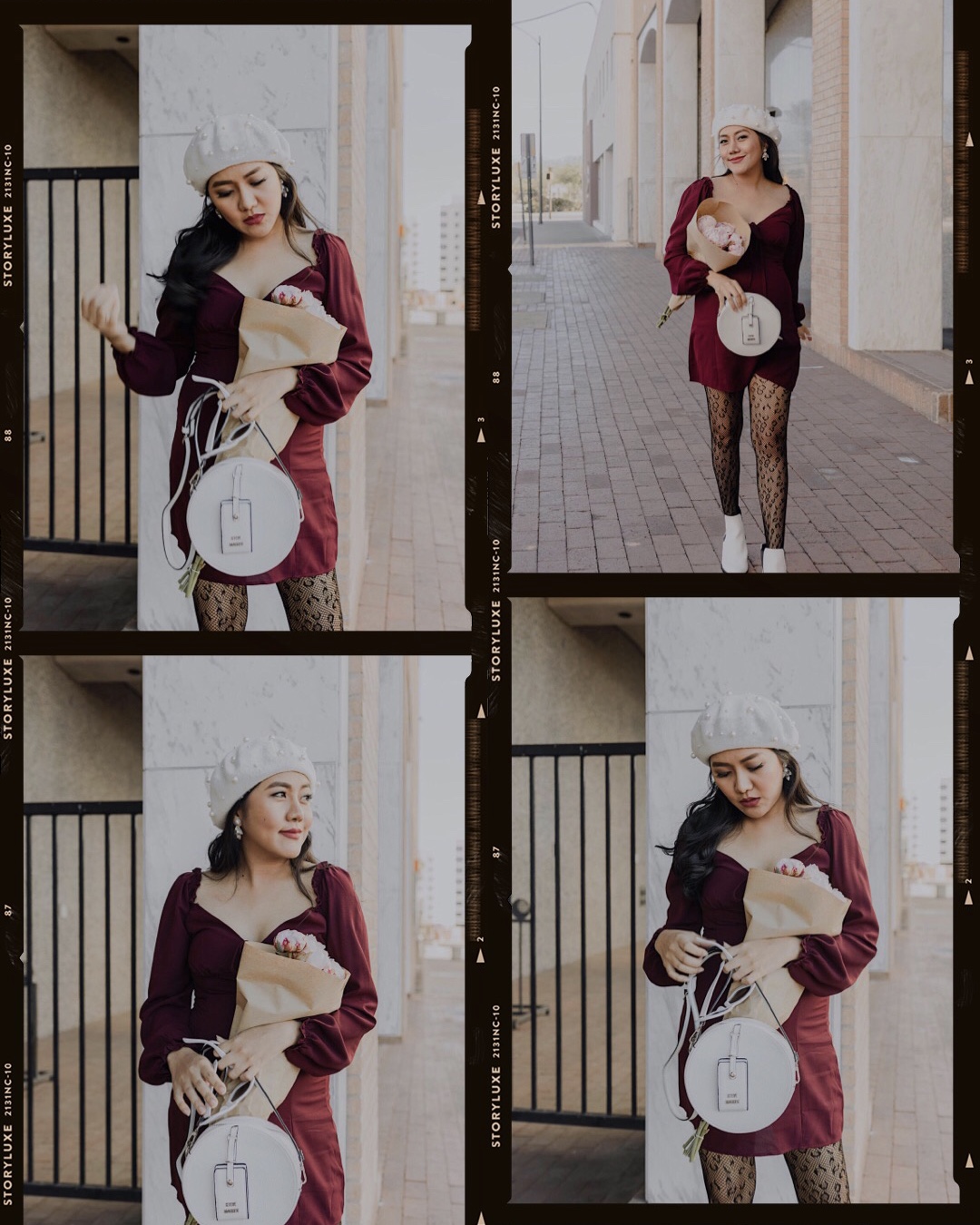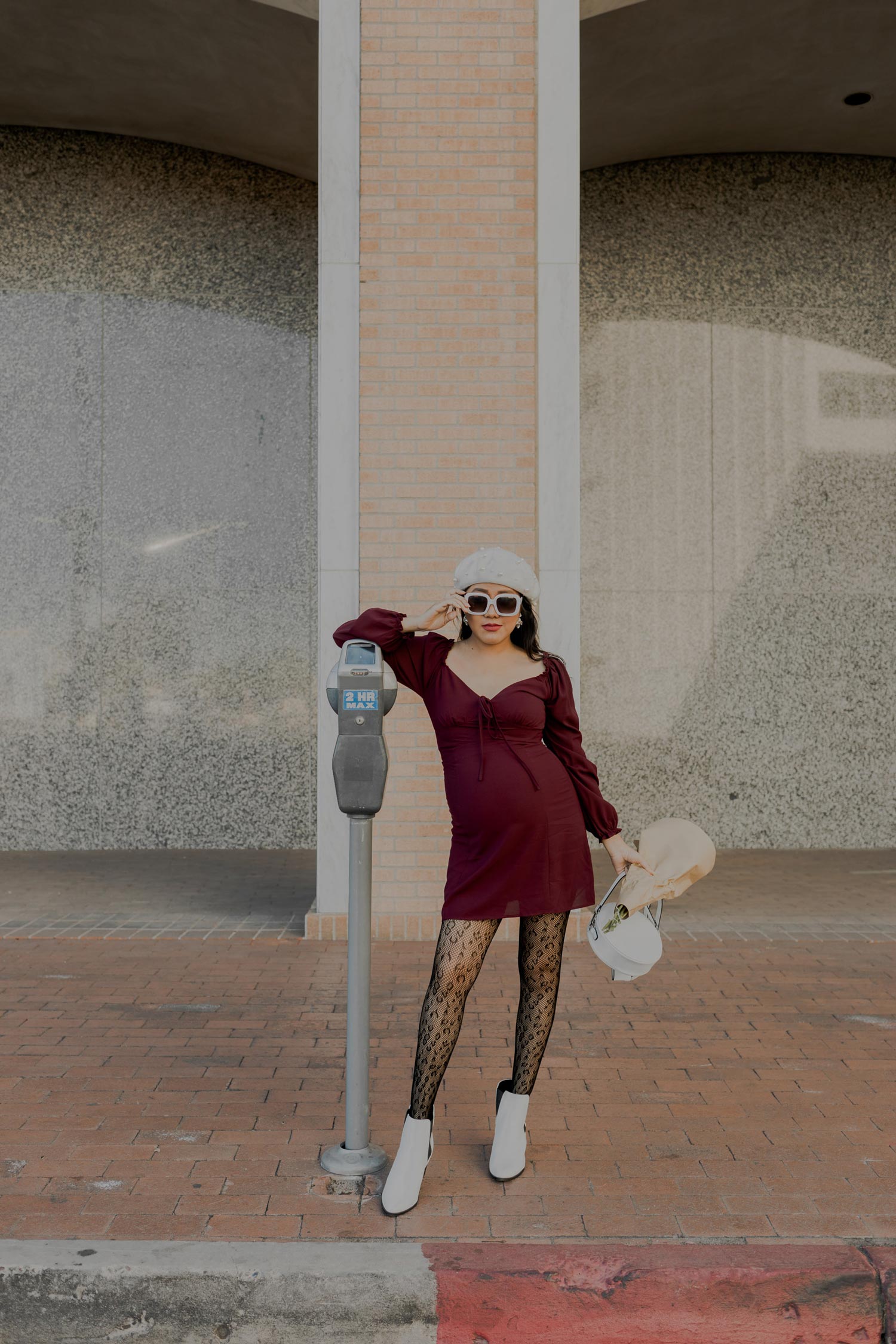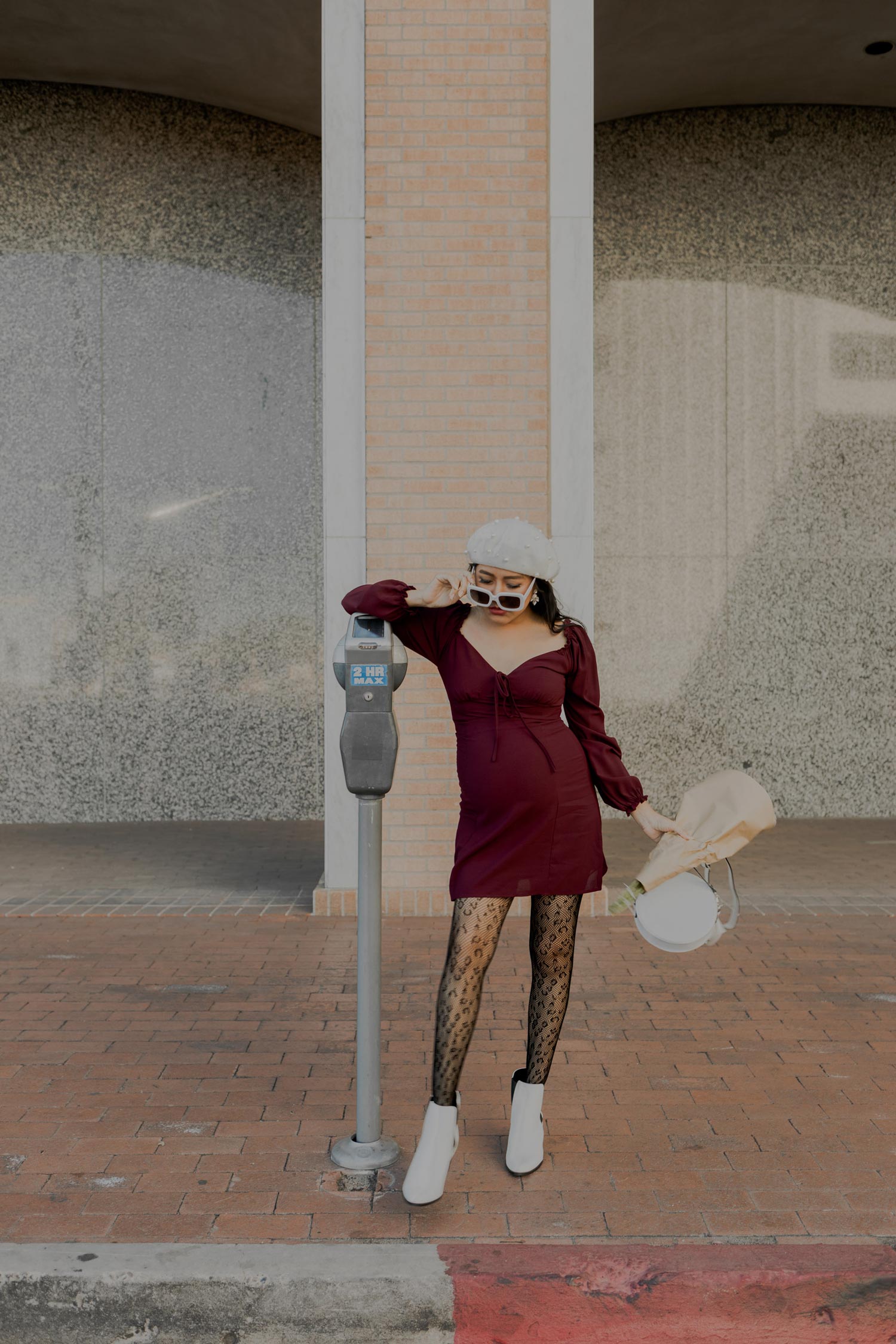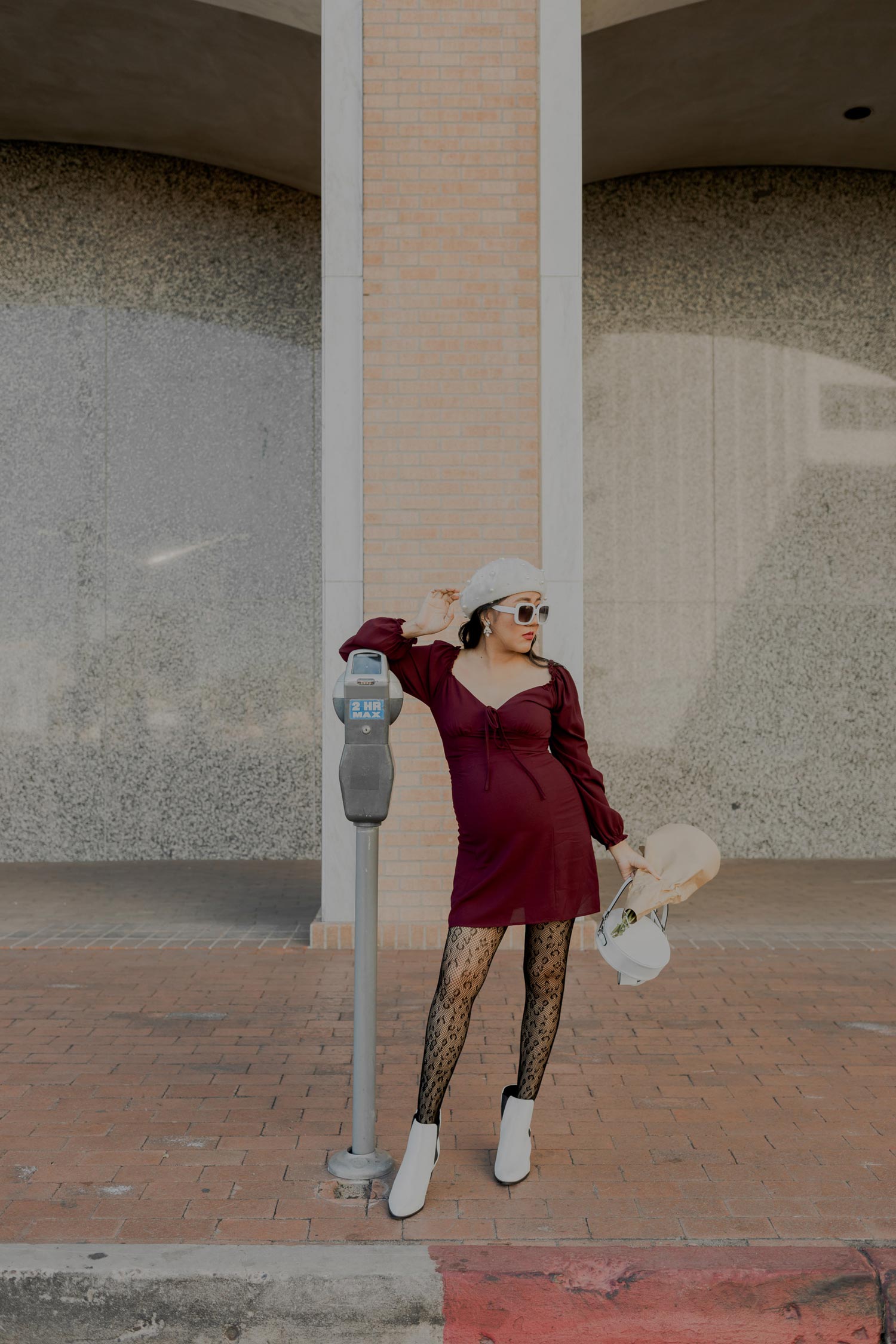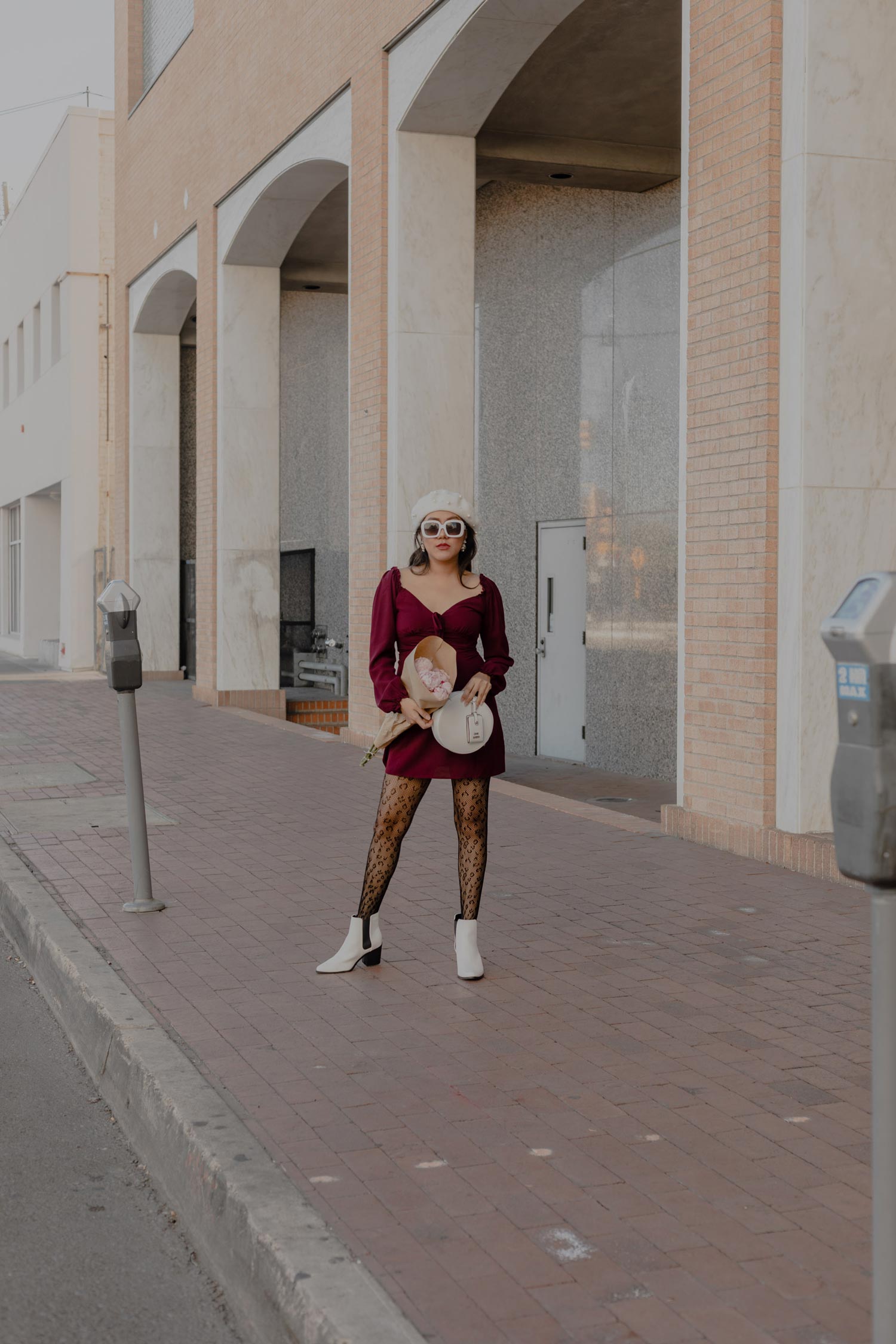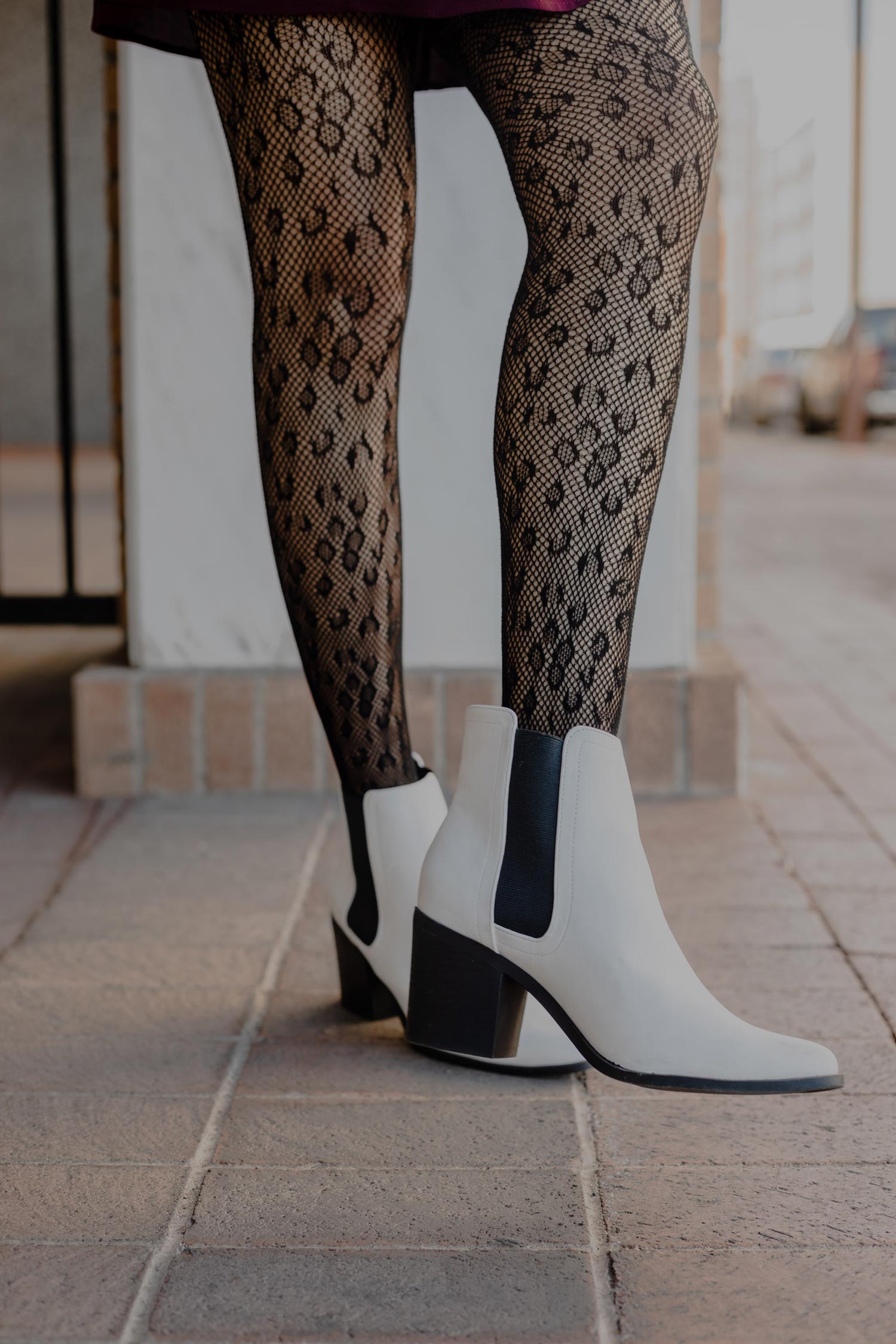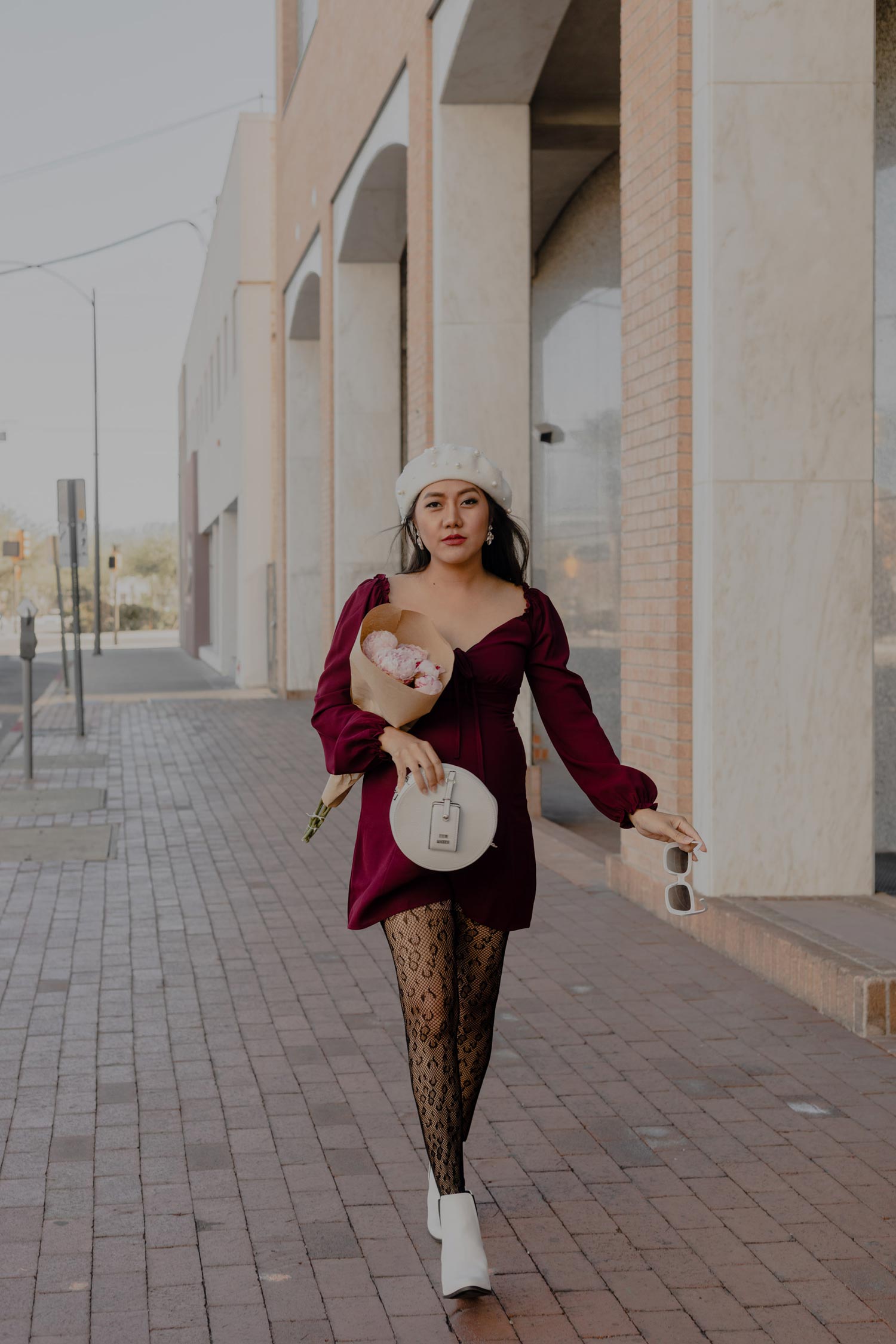 How I style this bag
I picked this bag to go with my plum fit and flare dress. Because the bag is white, I'm playing with white accessories like beret, sunglasses and ankle boots to match with the color of the bag. I really love the contrasting color of the dress and my accessories but I want to make this look a lot more of a statement so I added some cool patterns like leopard. With the texture of leopard print tights it makes the look a lot more fun and interesting.
You can definitely pull this look together for a Valentine's day date or a special date night.
A round bag shape would pretty much be an appropriate match with any style of cloths.
---
Share with me your thoughts on vegan handbags:
Do you think it's a trend or it will be a permanent part of our way of living?
---
I hope you enjoy this blog post and considered looking into adopting vegan products into your lifestyle.
Stay tuned for more vegan bags next week. You can click The V Armoire to quickly navigate to my blog posts about my vegan handbag collection.
Btw, don't forget to join our #GOODVIBESGIFTING series by sharing your thoughts with us in the comments below and answer some fun questions on my Instagram posts for a chance to win a $25 Starbucks gift card and one surprise gift from me. Winner of this post will be announced at the end of the month, January 31st, 2019, here on allaboutgoodvibes.com.
Thank you for stopping by my blog today. See you again soon!
Have a wonderful day!
"It's not hard to make decisions once you know what your values are." – Roy E. Disney
xoxo,